Arrizza (Guitarra Arrizza)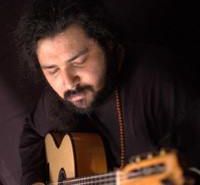 ~ Under the stage/artist name "Arrizza" - Yannaki is a self-taught Latin/New Age/World guitarist and multi-instrumental artist based in the Long Island, NY area, primarily performing within the Nouveau Flamenco genre. His music can be described as a fusion of the spicy sounds of the Caribbean and Latin-America along with the traditions of Southern Spain, also incorporating flamenco and Mediterranean rhythms mellowed out by a cool New Age flair.
Yannaki grew up in a diverse multi-ethnic background and was exposed in his formative years to the haunting and exotic sounds of Spanish flamenco music. This gave birth to a inner passion to discover the "Duende" (soul) of flamenco. Even at a young age, his first experience with his first guitar (a toy guitar) showed a genuine interest and love for the instrument, which was re-kindled later on in his teens when he received his first actual Spanish guitar. From this moment on, Yannaki devoted himself entirely to his music. During a particularly dark and painful period in his life, a reevaluation of Yannaki's life path became a necessity, and he drew into his background in spirituality and qigong to rise up once again. He chose to embark upon a spiritual musical path that not only captures the listener's ear, but also the listener's heart. Composing from the tender realms of the inner spirit - every note speaks a simple message of peace, love, and joy ~ from the tender New Age/Electronic-inspired musical pieces to the passionate uplifting sounds of rumba flamenco, each song takes the listener upon a magical journey of wonder and beauty.  

Yannaki's soulful compositions and clever fretwork has also received the recognition of world-class artists such as Canadian award-winning guitarist Johannes Linstead, David Gallegos, Jim Stubblefield, Dennis Fermin, Mark Barnwell, Al Marconi and others.  He continues to strive to compose and perform music that will certainly captivate the audience, specifically designed to make them tap their feet, elevate the spirit and bring happiness to the heart.

When not playing Spanish guitar, Yannaki enjoys playing on his synthesizers and composing a unique brand of Electronic music intended for deep listening and enjoyment!
Welcome to the exciting musical world of, Guitarra Arrizza!
 
---
Highlights
- Performed at 2012 Ecuadorian Festival - Patchogue, NY (2000+ audience)
- Supported the Fundacion Lucero de America at Live After Five Summer Festival - Patchogue, NY (2011, 2012, 2013)
- Special guest guitarist with Tumi Arts (South American musical group)
- Opened for the Atlantic Orchestra - St. John's Greek festival (2012, 2013, 2014, 2015)
- Opened for Asteri Entertainment - St. John's Greek festival (2016)
- Performed with the Victor Tarassov Trio (rhythm guitar - 2012-2018)
- collaborated on three albums to date (Mark Barnwell - Ojos de la Tierra, Mandala & FSG [Fermin Spanish Guitar] - Muevete!
- collaborated on an Electronic music album (Flying To My Secret Place - the remix EP)